Chaplains
Hospital Chaplaincy
The ecumenical chaplaincy team gives spiritual and pastoral support to patients, carers and staff during their stay in hospital and other Health & Community sites.
The members of the team minister to people of all faiths and none, helping people, as far as possible to find that sense of inner peace which is such an important part of the healing and grieving process.
Each person is treated with respect, dignity and sensitivity and is listened to in a confidential and non-judgmental way.
The main aims of the chaplaincy team are to:
Offer friendship and support
Listen to peoples' concerns
Meet spiritual and religious needs
Do remember that the chaplains are unlikely to know that you are in the hospital.
Please contact them if a visit is requested.
The Anglican chaplains:
Revd Fiona Hall
Revd Judith Davy
Revd Tracy Bromley
They are aided by Free Church and Roman Catholic chaplains and volunteer visitors. They are based at the General Hospital.
Direct Line: 01534 442377
For urgent requests: Telephone switchboard (01534) 442000 and ask them to page the duty chaplain.
Hospice Chaplaincy
As part of our remit to reach out to the community, St Andrew's Church has had a long relationship with Jersey Hospice Care. Practically this means that included in my role is a part time chaplaincy at Jersey Hospice Care. Where possible, we seek to provide spiritual support for both staff and patients in their amazing work and challenges they face. If you know of anyone at Hospice who would like a visit for prayer, a chat or just a listening ear, please do get in touch and let us know.
Mark Barrett | Hospice Chaplain
Pastor St Andrew's Church, First tower, Jersey
Tel: 01534 734975
Website: www.standrewschurch.org.je/
Rest day: Friday
Prison Chaplain
Provides pastoral care and seeks to ensure the spiritual welfare for all prisoners and staff.
Hospital visits, weddings, funerals, memorial services etc including liaison with families, where appropriate.
Henry Le Ruez | Prison Chaplain
States of Jersey Prison Service
Department for Justice and Home Affairs
La Rue Baal, St Brelade, Jersey, JE3 8HQ.
Tel: 01534 441887 Email: [email protected]
Contact Us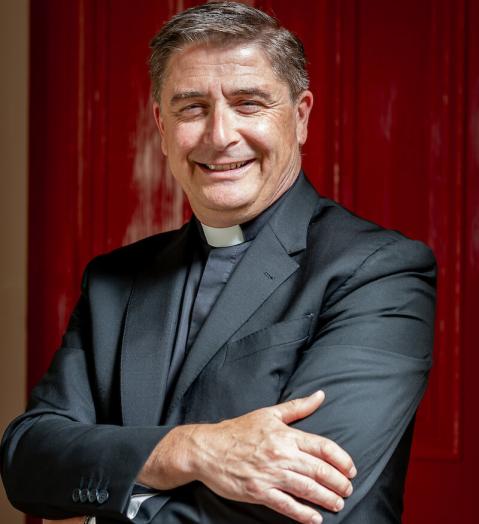 The Dean
The Very Reverend Michael Keirle
The Deanery,
David Place St Helier,
Jersey,
JE2 4TE
Jersey Safeguarding Lead
The Revd Beverley Sproats
St John's Rectory,
La Rue Des Landes,
St John,
Jersey,
JE3 4AF
Dean's Personal Assistant
Mrs Dawn Thomas
Deanery Office,
St Pauls Centre,
Dumeresq Street,
St Helier,
JE2 3WP
Interested in working for us? View our vacancies